At 14:00 JST (06:00 GMT) on Wednesday, September 26, HobbyLink Japan will be installing system upgrades and our services will be unavailable for 90-120 minutes.
Please complete your transactions before that time to avoid potential interruptions.
1/48 Mitsubishi F-1
by

Hasegawa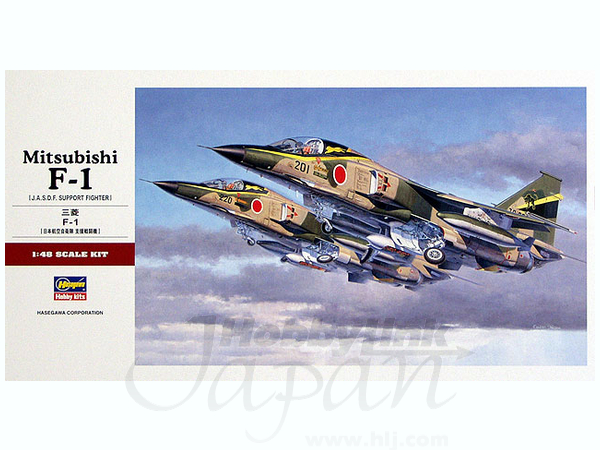 Product Description
This item is an injection-plastic jet aircraft model kit. 166 parts.
Hasegawa's all new tool F-1 is here! While a minor type used only by Japan, no collection of modern jet fighter-attack aircraft would be complete without an F-1. This kit continues the high level of detail seen in Hasegawa's latest jet offerings such as the Harrier and A-4 series, with fully detailed cockpit and landing gear, beautifully done surface detail and deep intakes and exhausts. Underwing stores include Sidewinders, drop tanks and a practice bomb dispenser. I believe this is the first time "Smurf killers" have been included in a kit. The large decal sheet includes markings for 5 aircraft of the 8th Squadron that participated in the 1995 Air Combat Meet, each with its own distinctive name and art on the splitter plate. In addition, squadron badges are included for two other F-1 units, the 6th and 3rd Squadrons, as well as plenty of extra numbers so that you can model aircraft from those squadrons if you choose. Very thoughtful!
Code:

HSGPT35

Series:

Date Released:

November 2004

Package Size/Weight:

36.0 x 19.0 x 8.0 cm / 410g

Manufacturer: