At 14:00 JST (06:00 GMT) on Wednesday, September 26, HobbyLink Japan will be installing system upgrades and our services will be unavailable for 90-120 minutes.
Please complete your transactions before that time to avoid potential interruptions.
Action Base 01 Macross Frontier S.M.S Ver.
by

Bandai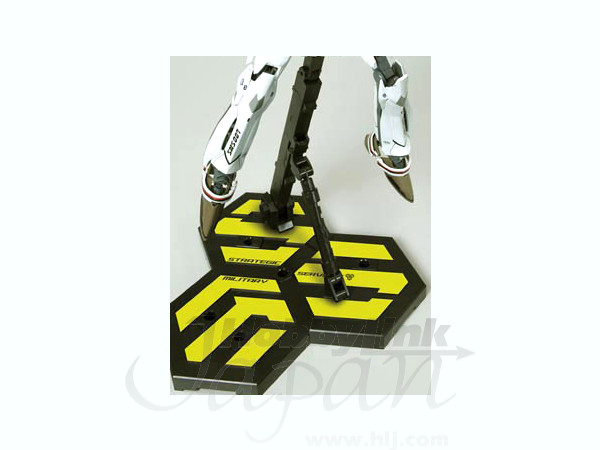 Product Description
This item is an injection-plastic kit of a science-fiction/anime item.
Molded in black, this Macross Frontier S.M.S.-version Action Base has a base in the form of the S.M.S. emblem and is designed to hold Bandai's "Macross Frontier" plastic model kit series.
This injection plastic snap-fit kit requires very little work to assemble. No cement or paint required! The support pole has an ingenious locking mechanism that allows it to extend or retract and is strong enough to hold the main stand in place. The main stand itself can also be extended upwards to pose your kit in a much higher position. A sheet of stickers is included for use on the Action Base, and custom name stickers for Alto's VF-25F, Ozma's VF-25S, Luca's RVF-25, and Michael's VF-25G are also provided.
The set comes with three different types of holders (a holder for each Valkyrie mode), as well as the standard Action Base holders consisting of three different sizes (8mm, 9mm, and 11mm) of U-shaped holders, a peg-type holder, and a screw-on type holder (a screw and a nut are included). (The package notes that there may be cases of a kit not able to fit.) Note: The 1/72 VF-25F Messiah Valkyrie Alto Custom kit shown below is not included.
Code:

BAN958100

Series:

Date Released:

February 2009

Package Size/Weight:

21.0 x 25.0 x 6.0 cm / 130g

Manufacturer: